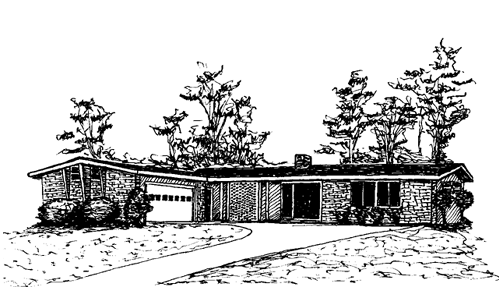 This design is representative of homes built during the first phase of Northcrest but not listed in the P&H Buider Catalog currently in my possession.
I've taken the liberty of rendering examples of various undescribed designs, attempting to maintain the style of the original catalog. These renderings are an extension of the six designs so far described.
Phase 1 Style 9 - "The El"
This design is one of many "L" shaped Moderns in Northcrest. I find these really unusual and very representive of the Mid Century Modern style - most have french double-doors as the main entrance (solid panels originally) with one or two side lights. Other features include slab foundations, end-gable clerestory windows, a 90 degree garage instead of a carport, and an ornamental brick wall (this is often removed) from the front. I really like the way the builders situated these houses on their lots - this appears to have been a popular style among residents and is really a true "ranch" as there is only one floor level. I've only entered one example through the front door and was greeted by a stone wall with slate floors - beautiful! There are several variations - some have exposed beams in the gables and others have brick wedges - very cool!