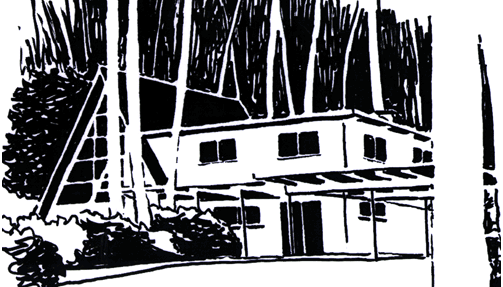 This design is representative of homes built during the first phase of Northcrest but not listed in the P&H Buider Catalog currently in my possession.
I've taken the liberty of rendering examples of various undescribed designs, attempting to maintain the style of the original catalog. These renderings are an extension of the six designs so far described.
Phase 1 Style 8 - the A-Frame
This design is one of about a dozen modified A-Frame houses found in Northcrest. Instead of the more common single-floor living space, the main level roof is projected upward into an A-frame shape, and an additional loft space overlooks the main living area. As with most of the MCM floor plans, the house is divided into left-right halves, with stacked rooms on either the left or right and living/dining/kitchen on the opposite half. Interior features are similar to those covered in Phase 1 Style 1 except for the extended space above the main-level. I have yet to view the interior and hope to have more information available soon.

General original pricing details are yet unknown, but I have heard that the A-frames were actually less expensive to purchase - perhaps at the time they were considered too extreme.