P&H Northcrest Catalog: 4-Pages
The earlier catalog consists of four pages, the first being the cover and the last an advertizement for Trane Air Conditioning (a rather new concept at the time). The second page shows six home models (I call the P&H Phase 1 Style 1-6 on the site), the third page shows some of the advantages of these homes.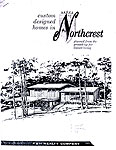 The cover of the P&H Catalog features the original Northcrest logo with what I call a Phase 1 Style 1 design. There's actually a crown shape above the crest that does not show in these scans (nor does it show in my photocopies). Text above the image reads "planned from the ground-up for leisure living", - below the image reads "homes of tomorrow.. today" and the P&H Realty Company contact information is in the banner at the bottom (Phone GLendale 7-0121 Doraville Ga.).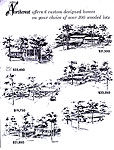 The second page displays the six designs offered from this catalog - four considered Mid-Century Modern and two traditional. Both traditionals also exhibit MCM design elements, one would be considered more modern except for the horizontal siding (many of these also have finished ceilings) and use of shutters. The only true traditional on this page has the four-column front and opposing carport. Prices range from $19,750 to $24,600 (lower right - my scan has the actual price clipped off).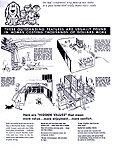 The third page includes most of the marketing elements, combining quaint 60's-style line-art with call outs to the exposed beam ceilings, wall-to-wall 100% nylon carpeting, skylights, sliding glass doors, patio, large brick fireplace, wet bar, modern kitchen (formica counter tops with stainless steel sink) and shared tub (sometimes referenced as a Hollywood tub or Jack-and-Jill tub). Many of the features in this catalog were not offered in the earlier homes built in Northcrest (such as the 150 Amp service).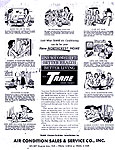 The final page is an ad for Trane Air Conditioning. "Look What Trane Air Conditioning can do for your New Northcrest Home" is prominent above the Trane logo. This page has some rather funny 50's style line art pointing out the benefits of cooler air.

I hope to someday have an actual copy of the catalog to scan, so that you may see the details - there is much missing from these scans.